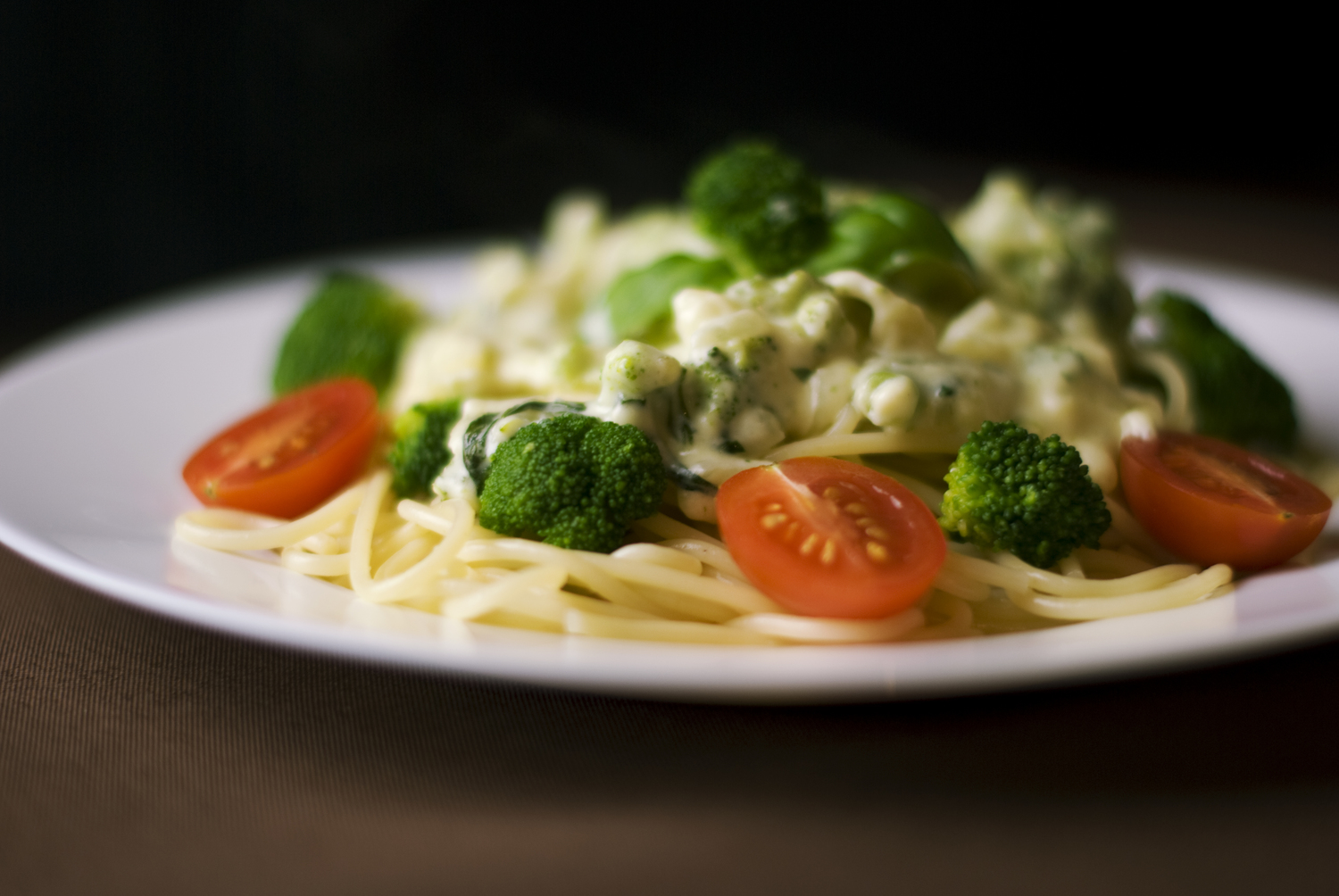 By: Nicole Pin, Registered Dietitian
Can you relate to the feeling of walk in the door after a long day at work, opening up the fridge and staring aimlessly, hoping to find something—ANYTHING, that you can turn into a meal; maybe one that has some 'good-for-you', nutrient boosting ingredients but not too many steps?
As a dietitian, I know just how often I've told clients, friends, families and even myself that the key to success for weeknight meals is preparation and planning.
Step 1: Plan your meals;
Step 2: Make your grocery list; and
Step 3: Chopping, dicing, slicing and pre-cooking the key things you need for the next 5 days.
Sounds easy enough, right? Maybe it is for some of us, but for others this can be a real struggle, especially if you don't have the time or the patience to plan ahead. Thanks to modern technology we have a simple solution for all this- the internet. You know what I'm taking about, in milliseconds a simple Google search can bombard us with meal solutions. From the Pinterest ideas to recipe blogs from around the world, and the many apps we can download on our smart phones and tablets. And of course, the temptation of chinese or pizza, which can be ordered with just the click of the mouse and a credit card.
Technology is amazing, but it can also be overwhelming, especially on a Wednesday at 5:30 pm. A busy weeknight is usually not the best time to experiment with a funky recipe online (shout out to anyone who has experienced a Pinterest recipe fail).
I want something healthy, fuss free, and ready before I get hangry (I think it's fair to say that many of my fellow busy Canadians would agree). So, what is the solution? Something I like to call "Last Minute Meals" These are my fail-safe dinner ideas when I'm running out of steam, running out of time, and maybe in need of a trip to the grocery store.
How to Make a Last Minute Meal:
Step 1: Keep meal staples on hand. This really is a lot less work than most people think, these may be items you already buy on a regular basis, or are inexpensive canned/frozen goods with a long shelf life. Choose lower sodium canned proteins (beans, tuna, salmon) and frozen veggies (which retain nutrients, flavour and texture better than canned).
The Staples:
·Brown minute rice, couscous, or pasta (any quick to cook grains)
·Canned tuna or salmon
·Canned beans or lentils
·Eggs and cheese
·Whole grain pitas or tortillas (they keep well in the freezer)
·Frozen vegetables (I like mixed varieties for their versatility and colour- california mix, asian blend, winter medleys)
In addition to these items, I find most people have things like dressings/sauces, oil, vinegar, garlic and seasonings on hand. Don't forget to consider using any extra food items you may typically have on hand when making a last-minute creation.
Step 2: Follow the Guiding Principles. Regardless of what you have or don't have on hand, these are the key components for making a successful Last Minute Meal
The Guiding Principles:
1.Start with the Protein: leftover chicken, eggs, cheese, beans, tuna or a combination.
2.Focus on Flavour: Be creative and use inspiration from your favourite cuisines (Mexican, Asian, Italian?). Sautéing in a non-stick pan is a great way to add flavour with minimal fat. Use onion, garlic, fresh herbs, spices, citrus juices (lemon, lime orange), vinegars, or salsa instead of excess oils or fats.
3.Back to Basic Bases: Keep it simple, almost any protein can be served over pasta, rice, or a bed of veggies (greens, riced cauliflower, spiralized zucchini). What about making a wrap, or using a baked potato as your base?
4.Garnish: Keep it fun with a sprinkle of cheese, a dollop of plain greek yogurt, avocado, fresh herbs, sliced fruit or a sprinkle of nutritional yeast.
Step 3: Find your meal inspiration. Think about the kinds of meals and flavours you like, and what ingredients might work. I've included my top meal inspirations below:
Wraps & Quesadillas: The possibilities are endless- you can use tuna, beans, eggs, cheese, salsa, hummus, veggies. Even a peanut butter banana quesadilla for a change! I typically use a Mexican theme for my wraps and melts (a sprinkle of cheese and fajita seasoning can make all the difference).
Pasta Dishes: Anything goes, even just adding a smidge of olive oil or margarine, grated cheese, and a garnish of parsley.
Stir Fry: It doesn't have to start with meat, try chickpeas with asian veggies over brown minute rice. If you do have some leftover chicken, fish, or beef, try re-purposing it into a stir fry (don't have quite enough for your meal? Add some lentils or beans to boost protein).
Breakfast for Dinner: Think frittata, omelettes, egg wraps, French toast, or savoury oatmeal.
Bowls: Bowls are all the rage. Make your own creation with a 'little bit of this and a little bit of that' attitude. This is a great option if you find you've got some odd leftovers at the end of the week. Sometimes you can theme these to a cuisine (i.e. Mediterranean), other times it's a bit more of a fusion style. Start with a vegetable base (raw or cooked), add protein, heartier veggies, legumes, and grains, finish with seasoning/dressing, condiments, and/or a sprinkle of cheese.
Now that you have the tools to create your own meals in minutes, I'd like to share some of my favourite Last Minute Meals.
Nicole's Favourite Last Minute Meals
Tuna Melt (10 minutes):
Combine 1 canned drained tuna with 2-4 tbsp. veggies of choice (grated carrot, celery, diced peppers onion) and 1 tbsp. pesto (1 tsp oil OR 1 tbsp. mayo also works) Spread tuna mixture over toast, pitas, or a bakery bun. Top with tomato or avocado slices (optional) and 2 tablespoons cheese. Place on a baking sheet and broil until the cheese is bubbling and golden brown, 3 to 5 minutes.
Pasta a la Veggie (15-20 minutes):
Put a pot of water on to boil and cook pasta according to package directions. Meanwhile in a non-sick pan, use cooking spray or a little oil to sauté onion and garlic. Season with salt and pepper to taste. Add 1 can drained beans to the onion and garlic and let simmer for 2-3 minutes. Add any other veggies you have on hand (broccoli, peppers, tomatoes, grated carrot, mushrooms and zucchini work well). Let simmer a few more minutes. Drain pasta and add to the bean and veggie mixture.
Garnish with a sprinkle with cheese and a sprig of basil (optional).
Chickpea Stir Fry (15 minutes):
This can be served on top of rice or in a tortilla like a wrap. In non-sick pan, using cooking spray or a little oil, sauté onion and garlic. Season to taste- I like to use fajita mix, taco mix, or curry spice. Add in 1 can drained chickpeas and let simmer for 2-3 minutes. Add in thinly sliced peppers or any other veggies you have on hand (the more colourful the better) and let simmer for 5 minutes. Serve over brown minute rice or wrapped in a tortilla. Garnish with salsa, sour cream/plain Greek yogurt or avocado (optional).
Stovetop Frittata (20 minutes):
Using a large non-sick pan on medium-low heat, sauté ¼ cup diced onion and 1 tsp garlic in a 1-2 tsp oil, season with salt and pepper (2-3 minutes). Add diced veggies of choice (cooked broccoli, grated zucchini, peppers, tomato, mushroom, spinach etc.) and cook until veggies are tender (3-4 minutes). Meanwhile beat 4 eggs with 1/4 cup milk. Pour egg mix evenly over veggies. Cover and let cook 10 minutes. Sprinkle with cheese, cover and cook 5 minutes longer, or until eggs are cooked through. Season with salt/pepper to taste, garnish with fresh herbs or salsa (optional).