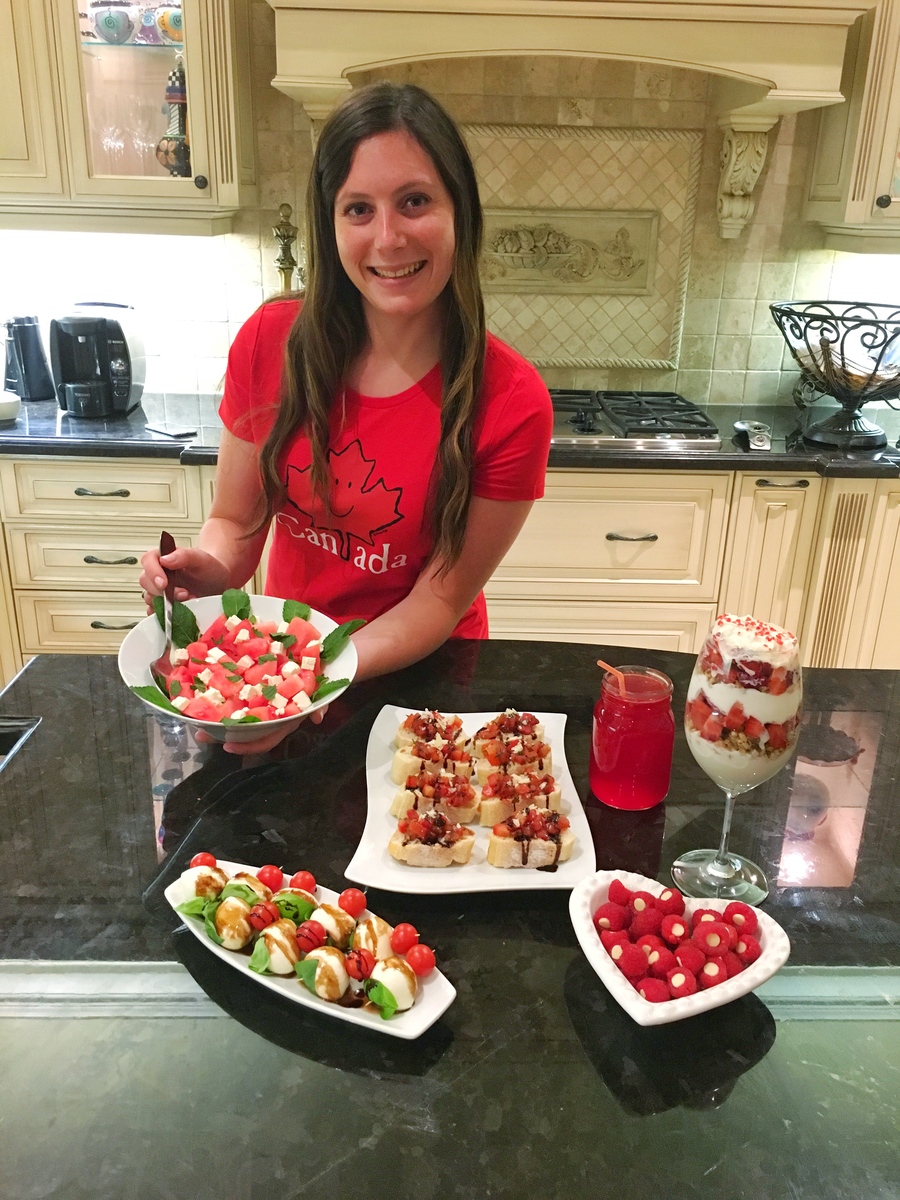 With the long weekend coming up, I'm sure many of you have plans to travel, go to the cottage, have a BBQ, or attend some other social event where food will be the focus. While it's ok to indulge a little, it is important to stay mindful of food choices in order to stay on track with your health goals! These tips will help you enjoy a fun and healthy weekend!
Serving sizes
The key to weight management is having an understanding of what an appropriate serving size from each food category is. By keeping The Balanced Plate (1/4 protein, 1/4 starch, 1/2 vegetables) and Hand Portion Guide in mind, you will be less likely to overeat, while getting your required intake of nutrients.
BBQs/Potlucks/Parties
At social gatherings that revolve around food and multiple dishes are served, it is too tempting to try a little bit of everything. However, this can easily lead to overeating and forgetting mindful eating principles. Follow these tips:

When loading up your plate, try to model The Balanced Plate
If there are appetizers before the main meal, stick to veggies and 1-2 tbsp of dip (if offered). If you eat a lot of appetizers, take a smaller portion of the main meal
When marinating meat, try a homemade recipe using oils, vinegars, fresh/dried herbs and spices, lemon juice, or Greek yogurt. Store-bought sauces are high in sugar and sodium
If you are attending a potluck, contribute a healthy option, such as: green salad, grain salad (quinoa, barley, brown rice), vegetable skewers, chicken breasts, hummus, guacamole, mango salsa, fish, shrimp, oven baked potatoes, or fruit salad
Limit dishes that are creamy, fried, cheesy, salty, and buttery. Choose dishes that are fresh, grilled, baked, and seasoned with herbs
For dessert, have mostly fruit plus 1 small treat, e.g. 1 scoop of ice cream, 1 small cookie, 1 block of chocolate, or 1 thin slice of cake
Instead of trying to fit every item onto your plate, bring a few Ziploc containers to take home food you didn't get to try
Engage in conversation while eating. This will allow you to eat slower and listen to fullness cues
Alcohol
Raise a glass (or a few) to Canada this weekend, but remember that alcohol contains a lot of empty calories.
What is considered 1 drink? (Source: Eat Right Ontario):
Regular beer, 5% alcohol: 341 mL (12 oz)
Wine, 12% alcohol: 145 mL (5 oz)
Fortified wine such as sherry, port or vermouth, 16-18% alcohol: 85 mL (3 oz)
Spirits or liquor such as rum or vodka, 40% alcohol: 45 mL (1.5 oz)
| | |
| --- | --- |
| Drink | Approximate Calories |
| Light beer (4% alcohol), 1 bottle or 12 oz | 99 |
| Regular beer (5% alcohol), 1 bottle or 12 oz | 140 |
| Non-alcoholic beer (0.5% alcohol), 1 can or 350 mL | 210 |
| Daiquiri, 7 oz | 260 |
| Pina Colada, 4.5 oz | 245 |
| Vodka, 1.5 oz | 100 |
| Wine (11.5% alcohol), 5 oz | 100 |
How to cut the calories:
Limit pre-blended frozen drinks (e.g. daiquiri, pina colada, margarita), as these are high in sugar and cream
Mix drinks with diet soda, tonic water, or 100% real fruit juice
Limit drinks with added syrups or liqueurs
Try: mix ½ light beer with ½ diet Gingerale; margarita using frozen strawberries
Travelling
Food is a huge part of travelling, as it is one of the best ways to experience a new city and culture. Since most meals are eaten at restaurants, it is difficult to eat in a similar manner to home. A few things to consider:
Pack your own non-perishable snacks to bring on the plane/in the car: nuts, trail mix, high fibre granola bars, peanut butter sandwich, whole grain crackers, low sodium pretzels, or air popped popcorn

These snacks can be packed in a backpack to fuel long days of exploring, and helps to save money

Hotel breakfast buffets: having an unlimited selection of food does not mean that you need to load your plate with everything. Try to mimic what you would usually eat at home, adding an extra source of protein to get you through the day. Best choices include: hard-boiled eggs, whole wheat toast, yogurt & granola, whole grain cereal & milk, fruit, and peanut butter. If offered, use the "make your own omelette" stations, adding lots of veggies
If there is a mini fridge at your accommodation, visit the grocery store to buy pre-cut fruits and vegetables, yogurt, milk, and cheese cubes
Portion sizes may be bigger, especially in America, so share dishes between 2 or more people
At restaurants: on menus, choose items that are steamed, baked, grilled, or poached. Ask for salad dressing on the side. Avoid filling up on complimentary bread. Choose water as your beverage.
Hydration
It's supposed to be a hot and sunny weekend, making it especially important to stay hydrated. Fluid requirements are: 2.2 L (9 cups) and 3 L (12 cups) for women and men, respectively. This includes all fluid from water, milk, juice, coffee, and tea. Try infusing water with lemon, oranges, berries, cucumber, or fresh herbs.
Canada Day Themed Recipes
Show your Canada pride by serving these red & white dishes! (As pictured)
Breakfast: Strawberry Parfait
0-2% plain Greek yogurt
Granola (choose high fibre, low sugar variety)
Strawberries, chopped
In a large glass, layer yogurt, granola, and strawberries. Repeat layering.
Appetizer/Side Dish: Caprese Skewers
Grape or cherry tomatoes
Mini bocconcini cheese balls
Fresh basil
Balsamic glaze
Place a tomato, cheese ball, and basil leaf on a toothpick or mini skewer. Drizzle balsamic glaze on top.
Appetizer/Side Dish: Bruschetta
Baguette, sliced into circles
Bruschetta (I bought from the store)
Parmesan cheese
Balsamic glaze
Top baguette slice with bruschetta and cheese, drizzle with balsamic glaze.
Side Dish: Watermelon-Feta-Mint Salad
Cubed watermelon
Cubed feta
Fresh mint leaves, chopped
Lemon juice
Combine all ingredients (ratio of ingredients depends on personal taste).
Dessert: White Chocolate Raspberries
Raspberries
White chocolate chips
Stuff each raspberry with 1 chocolate chip
Have a great long weekend and Happy 149th Birthday, Canada!! Stay safe, healthy, active, and hydrated!